Dermal Fillers
Dermal Fillers Hagerstown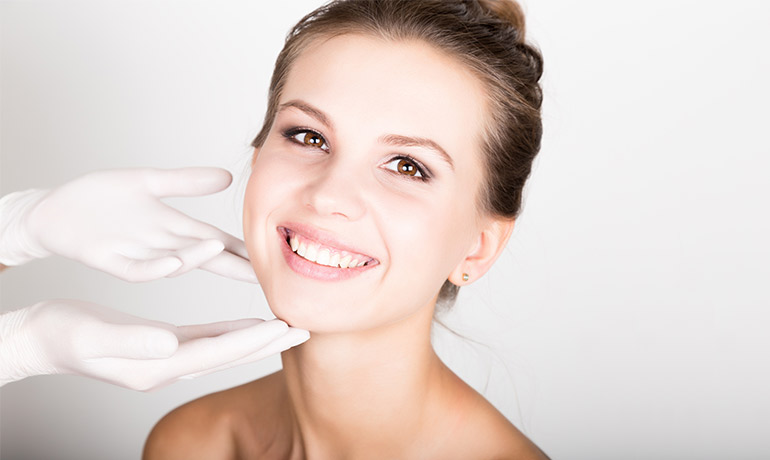 Ah, dermal fillers. They're a woman's best friend when it comes to removing the effects of aging.
Dermal fillers are inexpensive, non-invasive and give an incredible amount of bang for your buck--all reasons why dermal filler injections are one of the most popular cosmetic treatments around.
Restylane Hagerstown
Restylane-L (or simply Restylane) is the first hyaluronic acid dermal filler. This wrinkle-correction filler is FDA-approved and made to rejuvenate your appearance, adding volume and fullness in your face and skin.
Treatments will require only a small number of needle insertions and it is rather painless when numbing cream is applied prior to the treatment.
Restylane is so painless and effective, it has been included in millions and millions of treatments—over 30 million worldwide, in fact.
What Is Restylane Used For?
This filler is as versatile as they come. Restylane can return your face to its youthful vibrancy. The results are long-lasting and help with any of the following:
Scar lines
Crow's feet
Nasolanial folds
Cheek contour augmentation
Chin augmentation
Lip augmentation
Acne and chickenpox scars
Smile lines
Creating lip border definition
Frown lines
Hollow, worn-our look under your eyes
The Restylane line of products each provide a unique touch of beauty, and all help maintain natural and flexible expressions in your face.
For wrinkles and folds in your face, Restylane, Restylane Lyft, Restylane Refyne and Restylane Defyne is just for you.
Restylane Silk is designed for lip enhancement and Restylane Lyft will, you guessed it, lift and add volume to your cheeks.
All Restylane products are of a transparent, gel consistency. The difference between each of the sister products is the size of the gel particles.
What Exactly Is Hyaluronic Acid?
Hyaluronic acid, also known as Hyaluronate, is a natural substance found in every one of us. It holds moisture and replenishes our skin.
It is also responsible for lubricating our joints. In short, it is the premier hydrating ingredient for any skin care.
Because it's not produced from animals and fully biocompatible, there is zero risk of allergic reaction. Restylane contains stabilized Hyaluronic acid and a sodium chloride solution with a pH of 7.
How Long Are the Treatments?
Because allergy testing isn't required, when it comes to working with any type of Restylane, treatment typically takes no longer than 30 to 45 minutes.
The exact time only depends on what correction you're having done and whether or not you prefer before your treatment.
Does It Hurt?
Injections are basically pain-free. There is actually a numbing element (lidocaine) within Restylane itself--hence the "L" behind the product name.
The medical professionals at Hagerstown Dermatology & Skincare will be using a special needle to place the filler.
How Long Will It Take to See Restylane Results?
Results are immediate. And we mean immediate. You will see a major difference when you walk out and and take a look at the mirror in your car—if somebody hasn't already complimented you.
The treated area will have slight redness and swelling. It is crucial to avoid massaging or rubbing the treated area for the 48 hours following your treatment.
It is also wise to skip a few tanning sessions, beach trips or poolside hangouts because the treated area shouldn't be exposed to intense heat or extreme cold, either.
Lip treatments may leave some unevenness but that is just the swelling; it will balance out within a few days.
What You Need to Know Prior to Treatment
To minimize chances for bruising and bleeding, don't take any aspirin, non-steroidal anti-inflammatory medications, fish oil or blood thinning medications before visiting Hagerstown Dermatology & Skincare for treatment.
Any (Possible) Side Effects?
There are only rare side effects outside of the redness and tenderness we touched on earlier. Swelling, bruising, headaches and lump formations will be gone in about a week.
More serious effects involve onset infections, herpectic eruptions, and superficial necrosis on the treated area.
And as with all skin injections, there is risk of infection, but not allergic reaction to the product.
What to Tell Your Medical Professional?
Your medical professional should always know what medication(s) you're on and if you're using any blood thinners.
Also, be sure to let us know if you're pregnant or breastfeeding. The effects of Restylane on pregnancy are still unclear.
Finally, let us know if you have a history of scarring and if you may be planning any laser treatment/chemical peel.
What Is Used Alongside Restylane?
Patients see incredible results coupling Restylane with Dysport or Botox injections. Simultaneously, wrinkles don't stand a chance and make way for a smoother, younger and relaxed appearance.
Another one of the top brands in fillers is Juvederm, a collection of fillers manufactured by Allergan, the same company that produces Botox.
Juvederm, like Restylane, consists of hyaluronic acid.
Juvederm Hagerstown
https://www.youtube.com/watch?v=Kcjens2_T3w&t=2s
Hyaluronic acid is a miracle substance used to treat all kinds of conditions, from cartilage degeneration to its use as a filler for cosmetic treatment. Not only does it volumize the skin, it facilitates the transfer of nutrients to keep the skin healthy.
And that's why Juvederm injectable gel is such a wonderful product for volumizing the face. But you might be confused about all the different types of Juvederm products out there which include:
Juvederm Voluma and Volbella and what?
There are a number of Juvederm products out there. From Juvederm to Juvederm Ultra to Juvederm Vollure. Naturally, if you're new to dermal fillers, it can be easy to get confused. And no, none of those are the names of the villains from Twilight.
The kind of Juvederm you end up using largely depends on what part of your body you wish to affect. "Filling" out the face is not something that should be done haphazardly.
In order to achieve a specific aesthetic effect, the medical professionals at Hagerstown Dermatology & Skincare approach the face holistically. They look at what features of your face you might feel is "lacking," but also consider features they would consider part of your face's character.
While you might personally be insecure about the bagginess under your eyes, a trained professional might recognize that what's actually causing the pronounced bagginess is the disparity between the fat underneath the eye and the fat along the upper cheeks.
Hence, it's not always a straightforward assessment.
Then when you take into account patient history and other treatments a patient may have undergone, an experienced injector has to account for all these factors. Hence the different Juvederm products, all with slightly different formulations.
The Juvederm Difference
In actuality, there is no plain Juvederm, though the standard Juvederm products are Juvederm and Juvederm Ultra (hint: when you see "XC" at the end it means that the filler comes with lidocaine to help with pain).
If you want the actual "extra" version of Juvederm for lines and wrinkles, you're looking at Juvederm Ultra.
For deeper wrinkles on your face, Juvederm Ultra will give better results and can last up to 18 months. For finer lines, Juvederm is your go-to.
Juvederm Voluma
Juvederm Voluma, one of the newer products in the Juvederm line of fillers, is meant to be applied to the cheeks.
Its formulation is slightly different, and it's meant to be injected deeper into the skin.
Because of how deeply it's injected, Juvederm Voluma has been proven to last up to two years. By contrast, Juvederm Ultra lasts from eight to 12 months.
Juvederm Volbella and Juvederm Vollure
Juvederm Volbella, meanwhile, is meant for finer work. It is specifically made for the perioral area: basically the area around the mouth.
Very similar to Juvederm Volbella is Juvederm Vollure, the newest product in the line of fillers.
Whereas Volbella is applied to the perioral area, Vollure is used around the nasal area: specifically affecting the nasal labial folds and marionette lines that run down the bottom of the nose to the corners of the mouth.
Are Any of These Juvederm Products Right for Me?
An important question any patient should ask themselves is whether fillers will best achieve their intended results.
Fillers will tend to be a good go-to option for wrinkles and facial aging--especially because they're so safe and inexpensive.
But patients may find better results through Botox and similar products if, for example, they were trying to remove forehead wrinkles.
The correct treatment will very much depend on the patient's face, their history and their desired results.
If you're interested in dermal filler in Hagerstown or the surrounding Frederick area, contact us today to schedule a consultation.
RHA Fillers in Hagerstown
Defy gravity or at least look like you do with RHA facial fillers that allow you to appear as if you're not aging like everyone else around you.
Over time, aging and gravity take their toll on skin, causing sagging, wrinkles, and lost volume. But, RHA fillers are an excellent solution!
Why Choose RHA Fillers?
Everyone's skin wrinkles and sags, and this is caused in part by our skin's decreased ability to produce hyaluronic acid (HA) over time.
HA is the chemical which binds collagen and water, giving younger skin its supple appearance, and it's used in many dermal fillers available on the market.
But, RHA gives an upgrade to traditional HA fillers with breakthrough technology that allows you to make facial expressions without worsening lines and wrinkles. The best part? Results last for up to 15 months.
What Do RHA Filler Injections Feel Like?
RHA is injected with the smallest needle possible, and while a light pinching sensation is common, many patients do not feel anything during the procedure.
Unlike other fillers, RHA does not usually cause any swelling after the procedure is complete.
When Will I See RHA Filler Results?
Your results will be apparent immediately! Skin will appear more supple, plump, and line free within less minutes.
Am I a Good Candidate for RHA Dermal Filler Injections?
You are probably a good candidate if you are at least in your late 20s and do not smoke, but you can only know for sure through a professional consultation.
Your lines and wrinkles do not need to be particularly pronounced for RHA to be beneficial. As with most skincare treatments, the sooner you start, the more effective treatment will be in protecting your skin from ageing.
Where Can I Find the Top Cosmetic Injectors for RHA Filler in Hagerstown?
Hagerstown Dermatology and Skincare is dedicated to providing patients with both cosmetic and medical skincare treatments. We are a small facility, and we are focused on bringing state-of-the-art care to our patients. Contact us today at 240-469-4835 for a consultation to learn more about the benefits of adding RHA fillers to your skincare and beauty regimen.