Qwo Cellulite Treatment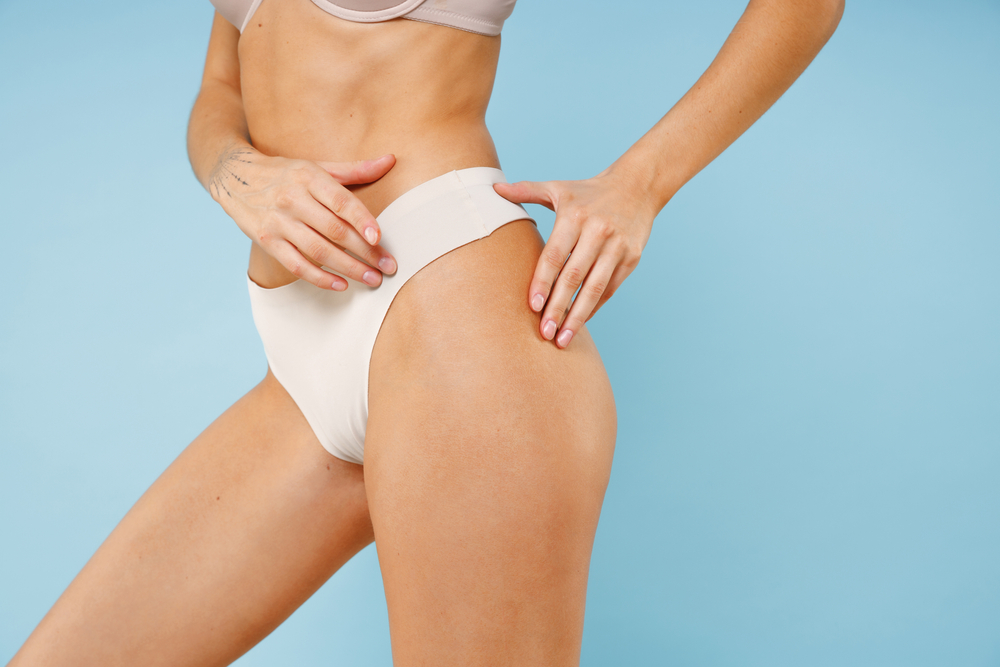 Qwo in Hagerstown, Maryland
If you've found yourself wanting to cancel swimsuit season because you're extremely unhappy with the dimpled appearance of cellulite on your buttocks, rest assured that a quick shot to your behind can eliminate that feeling!
Qwo anti-cellulite injections allow you to look forward to breaking out the bikini once again or wearing shorts with confidence.
Why Choose Qwo, the Shot That Destroys Cellulite?
This revolutionary cellulite treatment steps up the game when it comes to non-surgical cellulite removal methods. Throw away those creams, wraps, and other failed at-home products that promise results they fail to deliver! No amount of lotions and potions, diet, or exercise can do what this remarkable treatment can!
With Qwo shots for cellulite, you can trust that it's truly effective. In as little as one injection, or up to three, you can see cellulite disappear. The best news? Results are long lasting, giving you up to 18 months or longer of a smooth appearance when cellulite has created an uneven skin contour.
Approved by the FDA as an effective injectable cellulite treatment, Qwo requires no downtime or surgery but still delivers maximum results! When compared to other non-surgical cosmetic treatments that promise to eliminate cellulite, Qwo is more successful and the results are more predictable.
Can Qwo Be Used on All Skin Types / Skin Tones?
Yes! Qwo has been extensively tested and studied for safety in women of all ethnicities and  skin tones, including people with Fitzpatrick skin types IV, V, and VI. Women of all skin can safely benefit from Qwo cellulite shots.
What Does Qwo Feel Like?
Qwo injections are generally pain free and comfortable for most patients, and no anesthesia is necessary. You may feel tenderness at the injection site after treatment.
When Will I See Qwo Results?
Qwo results are typically visible within one month of treatment. You may start to see improvement sooner, but this is not a quick fix. This is because it takes time for Qwo to break down the bands of collagen causing the irregular appearance of skin dimpling.
What Are the Side Effects of Qwo?
Qwo is proven to be a safe treatment for cellulite, but it is not risk free, as no cosmetic procedure is. However, patients typically tolerate the injections well with no side effects.
You may experience swelling, redness, pain, warm sensations and / or bruising at the injection site. Any side effects you experience after Qwo may last for several days, but they are temporary. Allergic reactions are possible, but the risk of this side effect is very low.
How Long Is the Recovery After Qwo?
Since Qwo is non-invasive, you can immediately resume normal activity afterward. You can drive yourself to and from your appointment, so you can even schedule this quick procedure on your lunch break.
You should avoid elevating your heart rate and body temperature for at least 24 hours after treatment to reduce the likelihood of swelling.
Am I a Good Candidate for Qwo?
If you are an adult female suffering from moderate to severe cellulite and the toll it has taken on your self-esteem, you're likely a great candidate for Qwo injections.
Ideal candidates are in good overall health and have realistic expectations about the results that Qwo can provide. The only way to tell if Qwo will eliminate skin dimpling on your buttocks is to speak with a Qwo injection expert.
Want to look amazing in your short shorts and bikini this summer? Then, contact us today at 240-469-4835 for a Qwo consultation with one of our cellulite elimination specialists! Say goodbye to cellulite, and hello to your new sense of self-confidence!